The Seeingit.com, it's what to see and do concept sprouted in 1999 and in 2006, a corporation was formed to manage the Seeingit.com enterprise by the founder, Randall Harmon who had then been involved in Tour Operations, Hotel telecom and Internet technologies. Internet Terms of Use, Inc. is born.

A website was designed to feature consumer enabling technologies that automatically displays listings of restaurants, entertainment options, attractions, businesses, and day trips to points of interest within a 100 mile radius of a starting address for the enjoyment of tourists, hotel guests and residents alike.

For the business owner-advertiser, equal attention was paid to a marketing application that is easy, instant and affordable. Our utility allows business owners and marketers to login to one, easy-to-use website form, modify their listing and publish, at a fraction of the cost, the most critical marketing pieces such as coupons, special promotions, video commercials, brochures and textual descriptions to elicit the highest degree in consumer response. By integrating our media option with print media and other marketing campaigns, advertisers can reduce ad size and increase frequency. POS receipt "tag-lines", the tracking of promotion codes and referral marketing is a simple task with the Seeingit.com utility.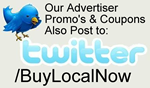 An Internet Business-Methods, Utility Patent is Pending.
Seeingit.com serves to enhance the velocity of commerce by increasing consumer accessibility and providing an affordable media option to enable business owners to reach out to them.
Our platform makes buying local even easier!
?It's about satisfying needs of the people and deriving enjoyment for being part of the solution that helps business owners everywhere.?
Enjoy!
Randall Harmon, CEO & President
Internet Terms of Use, Inc. / Seeingit.com
Tucson, AZ
866-631-0411
Email: randallh ?at? Seeingit.com